It's June. Did you guess?
Although you may think it is just a cake –  your wedding cake will, in fact, be  the center  piece of your wedding reception. The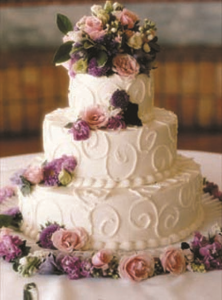 eyes of  all your guests will automatically  rivet to  the layers of beautiful cake, frosting the amazing decorations and anticipate the moment when you'll cap off the event by  cutting it for a photo op and for  all to share in the "sweetness" of the moment (sorry–couldn't resist!).
Choosing a wedding  cake is probably one of the most  enjoyable things  about marriage planning (remember–tasting is involved!) but it can  take time  to find just the right cake and just  the right  person to create it.  You want someone reliable, experienced, creative and wonderful to interact with.  Need we say it?  Look no futher!  Hundreds and hundreds of enthusiastic letters, photos and subsequent anniversary and birthday cakes tell their own story.  One we are confident you'll love.