Wedding Cakes
the most important cake of your life
Your wedding cake makes a statement about both of you–your personality, your sense of style, how you wish to begin your life together.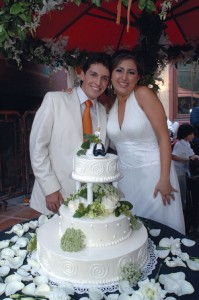 You might choose an elegant look.  Or perhaps you'll choose to show your playfulness or sense of humor.  You may choose a simple and sophisticated design or an elaborate, multi-layered masterpiece.  Whatever your preferences, you can count on Pasadena Baking, Co.  You can trust our technical expertise, attention to detail, experience in delivery and set-up as well as the incredible flavor options available to you.  We make it easy and exciting to create together the perfect cake for this most important day!
Please call to schedule an appointment for a consultation and tasting.  We usually book 2-3 months before your event, with the May – September weekends filling up quickly.
Our photo albums are available by appointment.  The possibilities which exist for customizing your cake are endless.
Make it your unforgettable dream day…
Most items are available with No Sugar added, Gluten Free, Nut Free, or Lactose Free upon special request. Contact Us now.